An unknown program can spark discomfort and panic in the minds of the users. Lately, we have seen a lot of Windows users complaining about Vulcan run time libraries in their devices. Your first instinct might be to delete the software. However, before deciding whether to remove the program, read the below point to make an informed decision
What are Vulkan Run Time libraries?
The first thing you need to know is that there is absolutely no reason to panic if you find Vulcan RT on your PC. It is neither malware nor a virus. Vulcan is not there to tamper with your device, therefore, no reason to delete or uninstall it. It is an Application Programming Interfaces (APIs) which was designed by display card manufacturers like NVIDIA or AMD. APIs are a set of clearly defined rules that determine how various software interact with each other. In short, installing NVIDIA or similar drivers will auto-install Vulcan RT for the better performance of your computer.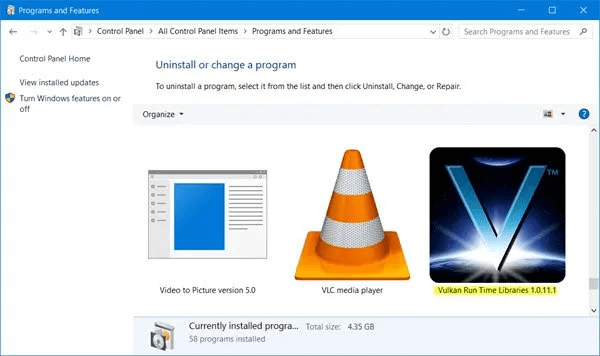 It is a collection of add-on resources to a primary program that aims to provide functions or services. People mainly panic because when Vulcan RT installs on a PC, it does not seek permission and there is no notification or pop-up window. Later when the users spot the program, they mistake it for malware. Sometimes your AV can flag them as threats, but please note those are false positives.
You May Like: How to fix VAC Was Unable to Verify the Game Session
---
Why do you need Vulkan Run Time libraries?
Now that we have established the fact that it is not malware, let's find out what it does in the system. Actually, these APIs provide functions and services to one or more native programs. These programs will not run smoothly and they may malfunction without Vulkan RT.
Lately, there has been a panic among the users about Vulcan due to the win32/subtab!blnk virus that has been spotted in some Windows PCs. According to some users after removing Vulcan RT, the Windows Defender stopped displaying any sort of malware attack. Hence, they concluded that by removing Vulcan, they are protecting their device. But please note that there is no connection between Vulkan and the win32/subtab!blnk virus.
Point to be noted that removing Vulcan RT can slow down your computer especially while gaming. Vulkan Run Time Libraries is a fairly new graphic standard and is not recognized by all supporting software and AVs. It has been specifically designed to offer higher performance and more balanced CPU/GPU usage. It is also instrumental in lowering CPU usage during heavy performance. Vulcan is also better at distributing the work amongst multiple CPU cores.
Since it is one of the newest APIs, not all games support it. Some of the ones that do support it are Quake, Dota 2, GRID Autosport, etc. It also supports some newer games. So if you wish to play those, leave Vulkan Run Time Libraries installed.
---
Is it advisable to uninstall Vulkan RT libraries?
As discussed earlier, we do not recommend removing the program. It will negatively impact the performance of your device. You may face graphic issues during gaming or slowing down your device. All you do is leave the program on your computer and not do anything about it.
---
How to uninstall Vulcan Run Time libraries?
Though we do not support removing it, if you want to remove the software please follow the below steps. Also if you face any malfunction in the graphics, you may need to uninstall and reinstall it.
First, type run in the search box in your taskbar and press enter.
Once the run box opens up, type appwiz.clp and click on OK.
A new window will open up with the list of all programs and apps that have been installed on your computer.
Rom there right-click on Vulcan RT and select uninstall/change.
See Also: What is IDP.Alexa.51? How to remove IDP.Alexa.51 virus
---
How to install Vulkan RT on Windows 10?
To reinstall the Vulkan RT program, follow these steps:
Type the device manager in the search box and select device manager.
Next, you need to point to the graphic hardware device and right-click it.
From there select an uninstalled device. From the next window, select uninstall.
Now if you restart the computer, it will reinstall the missing drivers.
If the same does not happen automatically, go to device manager again, right-click the video driver under the video hardware device, and select "Update Driver".
There is another neat way to install Vulcan RT on Windows PC.
You will need to use third-party software such as Snappy Driver Installer.
All you need is a proper internet connection and your PC.
This has the capacity of storing an entire collection of drivers offline.
---
Related Articles:
Conclusion
Hope you liked the article. Apparently, it is safe to say that you don't need to uninstall Vulcan RT fearing it as malware owing to false negatives. If you want good graphics and high VPU performance, please leave the program alone. In case, you want to share your thoughts on this, please use the comment box below.